​​

​​

​

A $50 deposit holds your choice of babies when they are born. We never know what we are going to get, we've had litters as small as 3 and as large as 10.

​​

We keep deposits in the order in which they come in. When the litter is born, we will contact the deposit holders with basic information about what is available. 
The first deposit gets the first choice, the second gets second choice and so on. Choices are given before the litter is posted and offered for sale.
Deposits are non refundable, but may be moved to another litter.
434 996 6993 or 434 987 2349​
​
Micro litter $450 , includes neutering for males. ​Chelsey our VERY small micro will be bred to Lester, our new small male. Those babies will be $500
We take credit cards by phone for deposits and in person for purchases. A 4% charge applies for final purchase on a credit card. 

​We are taking deposits now.

We are expecting 4 litters from Oct to late Nov. Taking deposits now.
We are delighted to announce that Lester, our new micro male has settled 2 females in his first breeding season. 

He is 27 lbs full grown with a lot of personality and a loving temperamentl
​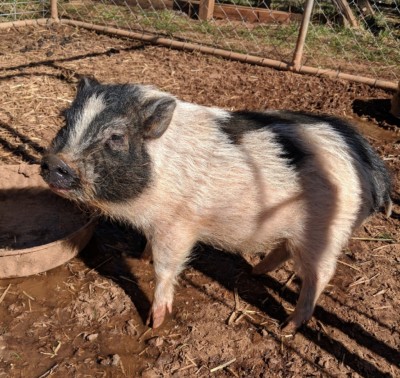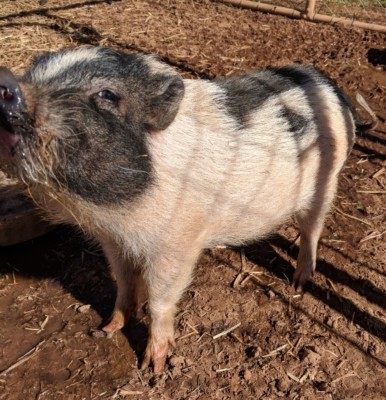 Lester has bred: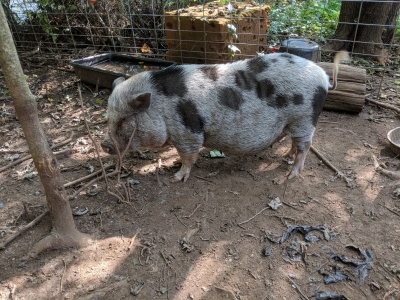 COCO ~ Mother of Sally, this isn't a good picture of her. She has a WONDERFUL temperament and throws lovely colors. This girl should have some great spotted babies with Lester and they should be much smaller than their mother.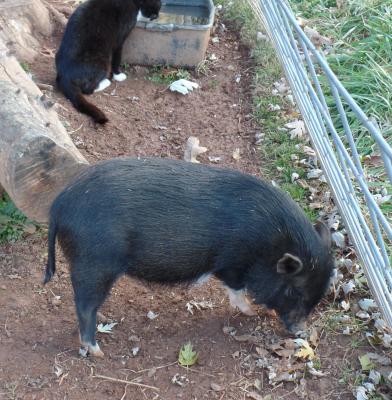 Chelsey 

Full grown about 25 lbs. Bred to Lester for Christmas babies.​

She was born a chipmunk but has outgrown the color, we have no idea what colors she will throw.  Shown here full grown, in the same photo as our cat and not much bigger!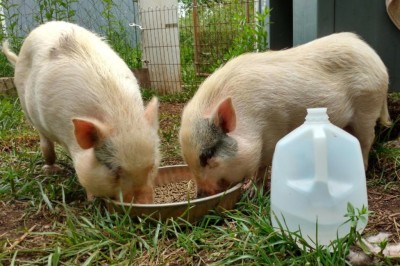 Penny and Peppa are bred to Hamlet.
These two small ladies have produced Chelsey, Sheldon (Our other house pig.) and several litters of lovely, healthy babies. This a repeat breeding, so we know what we will get. Lots of white (pink) babies, black and probably some boston marked black and whites. Babies will stay small and we know what we are getting because we have full grown examples here. 

Both are bred for babies who can go home for Christmas, Peppa will be a little earlier than Penny.